How to make the most of the growing movement.
Here's a sneak peek of what you can expect:
A full report on the five most memorable trends of 2014
Advice on how to take advantage of these trends
Tips and takeaways for you, your team, and your boss
A look at the 2014 Peer-to-Peer Fundraising Top 30 data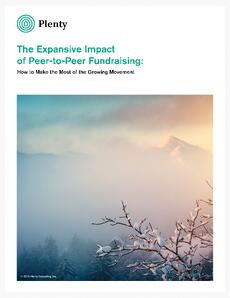 At Plenty, we've learned that nonprofit success depends on many things: passion, access to tools and resources, the ability to invest, the willingness to be patient while things gain momentum, and of course — the past.
This e-book covers the most memorable peer-to-peer (P2P) fundraising trends of 2014 and how your organization can leverage them for long-term revenue growth.
Download The Expansive Impact of Peer-to-Peer Fundraising E-Book today and begin taking advantage of these trends!