Let's face it: your clothes are drying out, your newsfeed is returning to normal, and the ice tray in your refrigerator is full again. After taking over our summer, the ALS Ice Bucket Challenge is starting to slow down. But before we move on to the next fundraising phenomenon, we wanted to take one more look at one of the most viral peer-to-peer fundraising campaigns of all time – TMZ style.
The challenge that took the nation by storm transcended our immediate social circles to the networks of high profile celebrities and public figures. Everyone from Kate Hudson to Bill Gates to Dolly Parton picked up an icy bucket in the name of ALS. Some of those celebrities were following the herd, but a few were early adopters who helped bring publicity and momentum to the campaign. So we thought, why not map out how celebrities are connected to one another?
The graphic below shows the celebrity nominations of each celebrity. Their nominations of normal folks – their parents, their siblings, their spouse their friends – aren't included. When we take a closer look, we can easily see the idea of peer-to-peer at work. At the most basic level, we see people connecting their circles of friends and family to create a network of change.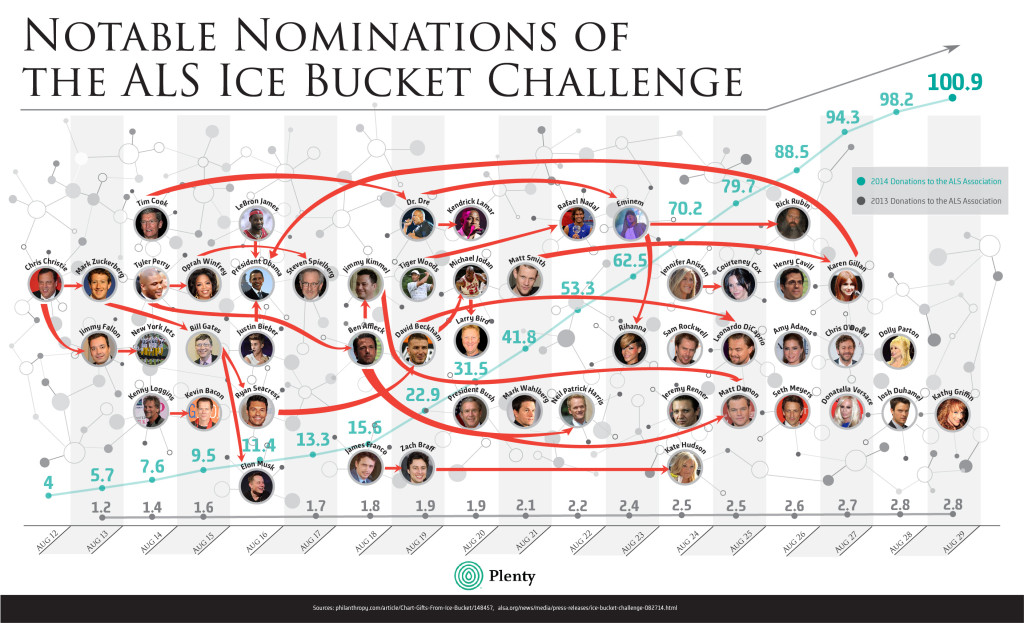 Share this Image On Your Site
Please include attribution to Plenty Consulting with this graphic.
This graphic shows the natural virulence that is inherent in peer-to-peer. It also helps us understand the notion that some networks are more powerful than others. For instance, if we look at Bill Gates and the connections that stem from him, we can see that his reach is responsible for at least three subsequent celebrity branches. On the other hand, Elon Musk's branch does not extend past himself.
This is not to say that all of our fundraisers are not valued supporters of our mission and shouldn't be treated as such, but it does remind us that peer-to-peer fundraising can be complex. In order to harness its power we must understand the intricacies of our constituent networks.
It is also important to understand that some networks have a greater reach than others and therefore greater power to impact the success of our peer-to-peer fundraising programs. This is one of the many reasons Plenty focuses on mapping out peer-to-peer fundraising networks in order to better understand them. If we can understand and better predict constituent behavior we can exponentially increase our chances of programmatic success.
So as you go back to putting ice in your drinks instead of on top of your head, consider the fundraisers and donors that make up your constituent base. Do you know who they are? Do you know who they are connected to? And most importantly, do you know how you and your mission can reach them?
Continue exploring the power and expansive nature of peer-to-peer fundraising and how it impacts your organization. Download our free tool, "The Family Tree of Peer-to-Peer Fundraising"!
Creative Commons Licensed Images:
| | | | |
| --- | --- | --- | --- |
| Rick Rubin, from Wikimedia Commons | Mark Wahlberg, from Wikipedia | Ben Affleck, from Wikipedia | Justin Bieber, from Wikipedia |
| Henry Cavill, from Wikimedia Commons | Kendrick Lamar, from Wikipedia | Bill Gates, from Wikipedia | Ryan Seacrest, from Wikipedia |
| Amy Adams, from Wikimedia Commons | Michael Jordan, from Flickr | Chris Christie, from Wikipedia | Elon Musk, from Wikipedia |
| Seth Myers, from Wikimedia Commons | Larry Bird, from Wikipedia | Mark Zuckerberg, from Wikipedia | Steven Spielberg, from Wikipedia |
| Courteney Cox, from Wikipedia | George W Bush, from Wikipedia | Jimmy Fallon, from Wikipedia | Kenny Loggins, from Wikipedia |
| Courteney Cox, from Wikipedia | Dr. Dre, from Wikipedia | Tyler Perry, from Wikipedia | Kevin Bacon, from Wikipedia |
| Leonardo DiCaprio, from Wikipedia | David Beckham, from Wikipedia | Tim Cook, from Wikipedia | Jeremy Renner, from Wikipedia |
| Matt Damon, from Wikipedia | Tiger Woods, from Wikipedia | NY Jets, from Wikipedia | Sam Rockwell, from Wikimedia Commons |
| Eminem, from Wikipedia | Zach Braff, from Wikipedia | Oprah Winfrey, from Wikipedia | Rafael Nadal, from Wikimedia Commons |
| Rihanna, from Wikipedia | Kate Hudson, from Wikipedia | LeBron James, from Wikipedia | President Obama, from Wikipedia |
| Neil Patrick Harris, from Wikipedia | Jennifer Aniston, from Wikipedia | James Franco, from Wikipedia | Jimmy Kimmel, from Wikipedia |