#1: Peer-Enable Everything
[Editor's Note: This is the first in a series of blog posts expanding on this year's peer-to-peer fundraising trends, as presented from the main stage of the 2015 Peer-to-Peer Professional Forum Conference and unpacked in our e-book, The Expansive Impact of Peer-to-Peer Fundraising].

Keeping up with the Joneses is hard, but keeping up with the industry can be impossible. That's where Google Alerts comes in. This handy tool allows you to input a keyword or phrase into Google, which then trolls cyberspace for its mention in news articles, blog posts, or on social media. At the end of each day, you then receive an email summary, in newsfeed format, of the term's activity. Pretty neat, right?

A few months ago I requested to receive alerts for "peer-to-peer" assuming I'd receive a narrow list of updates relevant to my search. But each time I scroll through the daily newsfeed,

I'm struck by the breadth and sheer volume of information being circulated on peer-to-peer networks, and even more by how few of the headlines have to do with fundraising. In the last week alone some of the alerts I've received are:

"Peer-to-Peer Lending is Growing in Popularity with Investors"

"Barnes and Noble Invests in Peer-to-Peer Study Marketplace"

"Will Peer-to-Peer E-commerce Apps Hurt Amazon & eBay?"

On a macro level, peer dynamics are everywhere: in finance, education, e-commerce, and more. To put it simply, the concept of peer-to-peer networks extends far beyond walk/run/ride fundraising programs. And although this logic may seem like last year's news, the nonprofit industry has yet to fully "get" the expansive nature of peer-to-peer. For instance, when we highlighted the peer-to-peer dynamics of the Girl Scout Cookie program from the main stage of the Peer-to-Peer Professional Forum, the audience shared in a collective gasp.

Whether you find this news gasp worthy or not, it is high time to understand that peer-to-peer is not merely a high-potential fundraising channel: it is a way of communicating with and understanding all of your constituents (not just millennials) and the way they communicate with, relate to, and share information with each other. And whether you realize it yet or not, peer-to-peer extends beyond your "designated" peer-to-peer programs to your galas, golf tournaments, and major gift programs. Peer networks are a part of everything we do, which is why one of the biggest opportunities for nonprofits in 2015 is to peer-enable everything.

Here are three ways you can peer-enable your fundraising programs for maximum reach and revenue growth.

1. Teach That Sharing is Caring
Though this mantra may remind you of earlier days that included nap time and recess, it is relevant to even the most mature adults in your database. The importance of sharing your organization's mission, opportunities for involvement, and accomplishments should be shouted from the rooftops to fundraisers, volunteers, and board members – so much so that it becomes ingrained in your constituents' culture.

The key in doing so is to provide your constituents with the information, tools, and appropriate channel they need to share your message. Board members, for example, could be encouraged to share your annual report with their peers outside of the organization, to illustrate the financial progress affected by their involvement. Donors could be encouraged to host a luncheon for friends and neighbors during which a member of your staff presents the progress to fulfilling your organization's mission and plans for the future. Whatever the avenue and whoever the audience, keep your constituents' offline activity in mind and create new opportunities for them to serve as your advocates.

Look to: Arbonne. This cosmetic company has a completely peer-driven business model in which independent consultants create and leverage networks to sell cosmetics outside of physical retail stores. Consultants host in-home parties, attend pop-up shops, and rely on word of mouth to make ends meet. Encourage your constituents to approach their involvement with your organization in this way, and you'll increase the size and loyalty of your database.

2. Read Your Spam
Even if you don't need a Crossfit membership or aren't ready to take the plunge on this season's swimwear, you can learn from the "junky" email in your inbox. Retailers are masters of the email blast: they're quicker to action, more willing to take risks, and more creative than most nonprofit organizations are. As a result, their communications are relevant, unique, and fun – making them more likely to "go viral" between friends, siblings, and co-workers.

Coordinate with your marketing department to design communications tailored to relevant, predictable milestones (not just your events) like March Madness, the Tour de France, or Black Friday. Better yet, start planning for region-specific occasions that affect your constituents, like school closings due to a snowstorm (think of all the parents at home with their kids, in need of a fundraising activity!).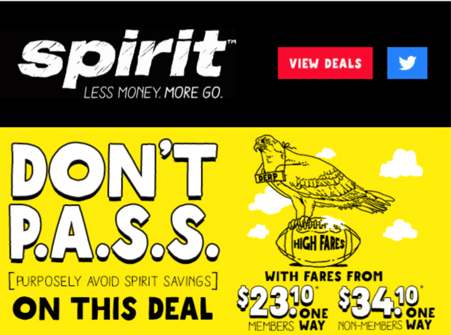 The more you tailor your communications to your audience while making them easy to share, the more likely you are to have them spread the word of your events and mission to their friends and family. Don't be afraid of creating a number of touch-points with your constituents – after all, although you may not want that sweater now, you might need it when an unseasonable cold snap comes through.

Look to: Spirit Airlines. The low-cost air carrier dishes out clever, relevant copy on a weekly basis. Even if you aren't looking for a weekend getaway, their emails are worth the subscription for entertainment value alone, like this message following the call that arguably lost the Seahawks a Super Bowl title.

3. Outsource to Your Constituents
If your team rarely has enough time, personnel, or brainpower to answer every question, survey every participant, or brainstorm new ideas, you're not alone. Small shops often have big ideas for improving the event experience, but not all come to fruition due to lack of resources. The next time your team needs help deploying and culling event surveys, answering questions about your registration process, or calling fundraisers to say thank you, don't underestimate the manpower at your disposal – call upon your actively involved constituents to help!

Doing so accomplishes three things. First, it will allow your team to move forward with more pressing and involved projects.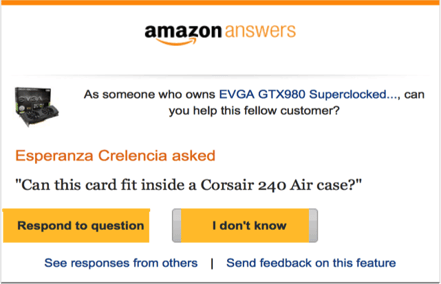 Second, it will strengthen your supporter network by providing a forum for constituents from different regions to form relationships.
Third, it solidifies the bond between your organization and the constituents with whom you outsource to. You will get he help you need and your constituents will appreciate being trusted with a behind-the-scenes assignment – just don't forget to thank them!
Look to: Amazon Answers. Amazon, master of the product review, is now outsourcing product-specific questions via email to its customers, who then have the opportunity to serve as experts and inform the purchasing decisions of others on the site.
Peer-enabled programs are a necessity in this rapidly evolving, mobile-friendly, socially networked world. Even incremental steps toward peer-enabled communications, a culture of sharing, and constituent-inclusive outreach will preserve the relevance of your programs, even when other options are abundant. People care about your cause, and they're most likely to be found in your constituents' networks. It's up to you to provide your supports with the resources and reason they need to activate them.
For a deeper look at the industry trends impacting your organization in 2015 download our e-book "The Expansive Impact of Peer-to-Peer Fundraising".