#2: Design For People
[Editor's Note: This is the second in a series of blog posts expanding on this year's peer-to-peer fundraising trends, as presented from the main stage of the 2015 Peer-to-Peer Professional Forum Conference and unpacked in our e-book, The Expansive Impact of Peer-to-Peer Fundraising].

I have been out of college for a few years now – four to be exact – and though many of the academic lessons I worked so hard to learn have long since been forgotten (sorry Art History 211), a few important teachings have stuck with me. One in particular came from a marketing professor of mine, who constantly stressed that the key to effectively communicating with your audience is to listen.

Back then this felt like a novel concept, for in many ways marketing feels like a one-way conversation. We brainstorm a campaign, schedule the messaging, and deploy the communications, all within the confines of our office and organization's internal plan. But in reality, successful campaigns are built upon a dialogue between the organization and its audience, and of those, the most successful are constituent focused.

As most things are, this too is easier said than done. To truly create a campaign that is focused on your audience, you have to do the one thing that many organizations often forget to do – listen. It's easy to export report after report of fundraiser and donor data, combine it with internal assumptions you and your team have made regarding who your audience is, and construct campaigns entirely based off of this information. But this isn't enough. These tactics are only part of the puzzle. To design campaigns and events that resonate with your constituents, you have to step out of the conference room and into your constituent community.

So, what does this look like exactly? Here are three easy ways to listen and learn more about your constituents:

1. Ask Them
One of the best ways to learn more about your constituent base is to simply ask them questions. What are they interested in? What do they care about? What is important to them? These are all important facts to know about your audience, and instead of trying to guess what the answers are, just ask them. Most people appreciate having the opportunity to share their opinion. Need proof? Just look at the millions of reviews people post online for everything from restaurants to clothes to

staplers

(yes – there is even a review for that!)

Because people like to share their opinion, the peer-to-peer model is built upon communities and constituents rapidly sharing and consuming information about the things that matter most to them, including your cause.

One tried and true method many organizations use to gather information directly from their fundraisers and donors are post-event surveys. And while this a great way to improve your fundraising event, the goal is to try and dig deeper into the thoughts and opinions of your audience outside of just event logistics and production. Try shaking things up a bit and broaden your focus. Ask questions that go deeper than your typical post-event survey. Find out what participants care about, what kind of impact they want to make, how and where they consume information, how they would like to be involved most, etc. You can also try using tools such as Qzzr to break away from the traditional survey layout.

We know that communication year round is important and because these surveys are not tied to a specific event, the timing is flexible – so send them often and throughout the year. Just make sure to account for the other messages your organization is sending as well as your planning process. You want to use this information during your campaign development, so send the surveys out at a time that ensures you will have the information when you need it.

The key is to ask important questions that will help you paint a fuller picture of who your audience is, to ask these questions often, and to use their responses to inform your campaign strategy.

2. Meet Them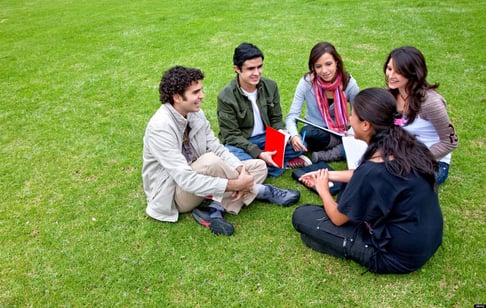 That's right, get out from behind your desk and go meet your supporters. Only so much can be learned from surveys and data exports. There is no replacement for in person interaction. The insight you can gain from going into the field and meeting your constituents is huge.

As the way we communicate becomes more and more digitized, the need to add a human touch and interact with your audience directly is becoming increasingly critical to your program's success. By meeting your supporters you are able to get a much clearer and more accurate picture of who they are as people, not just as fundraisers. Whether you attend a fundraising event, set up local chapter meetings, or even put together focus groups consisting of your most active constituents, don't miss the opportunity to connect with them directly.

Does finding the time for face-to-face interactions feel impossible? Then consider leveraging the people in your organization who are already cultivating these relationships. Your staff and volunteers who are already working in the field or at the local level likely have a deep understanding of your constituents. They often work very closely with some of your most engaged supporters and therefore have a wealth of knowledge about your audience. The problem is that this information doesn't always make its way to the top of the organization where the campaign strategy is being developed. If this sounds familiar, consider who in your organization may already have a deep understanding of your constituents, and what processes can be put in place to make sure their knowledge is shared throughout the entire organization.

3. Watch (and learn from) Them
Of course when we say "watch your constituents" we don't mean in a creepy, from behind a bush with binoculars kind of way. What we are actually referring to is the idea that sometimes the best way to learn what your constituents are interested in is to observe their actions and conversations online, especially when it comes to Independent Fundraising Events (IFE).

IFEs continue to become a bigger part of many organizations' portfolios. But even with revenue aside, these events can tell you a lot about what your constituents are interested in. As you and your team brainstorm your next campaign, first look to see what your supporters are already doing. Are highly successful IFE programs currently being organized to support your cause? If so, do some digging to learn why these programs are performing so well, and try to construct your fundraising strategy using that criteria.

IFEs are only one of many ways your constituents may already be giving you a glimpse of their interests. Forums for your cause and/or organization, as well as your supporters' social media conversations, can be a fantastic gateway into the minds of your audience. Therefore, it is critical that you take the time to listen. In many cases your fundraisers may be telling you exactly what they need directly on your social pages. So as your social media coordinator sends tweet after tweet promoting your next event, make sure they are also taking the time to listen to what the community is discussing, and then use these insights to guide your fundraising campaign development.

Designing your campaigns and events for people, and more specifically for your constituents, is one of the biggest opportunities for nonprofits in 2015 for a reason. Not only are tools that capture this information more readily available than ever before, but constituents are also increasingly craving this type of interaction as we communicate primarily through digital mediums. Don't fall back on assumptions or general demographic data. Instead, invest time into asking, meeting, engaging, and watching your supporters. Learn what will not only motivate them to fundraise but also to invite their networks and friends and family to do the same.

For a deeper look at the industry trends impacting your organization, and the concepts you and your team should be thinking about in 2015 download our e-book "The Expansive Impact of Peer-to-Peer Fundraising".