#3: Now Is The Time To Invest
[This is the third in a series of blog posts expanding on this year's peer-to-peer fundraising trends, as presented from the main stage of the 2015 Peer-to-Peer Professional Forum Conference and unpacked in our e-book, The Expansive Impact of Peer-to-Peer Fundraising].
In the early autumn of 2008, following an inexplicably magical summer of "hope" for both politics and fundraising, the great recession plummeted down on us all with astonishing velocity. We all know the reverberations and aftermath of the economy's collapse: times got tighter and we found ourselves having to do more with less. In many cases a lot less.
We slogged through the subsequent years, getting by with slimmer resources. We cut budgets, we cut staff, we cut programs, we cut services, and we cut events – and in many cases, the revenue from our peer-to-peer programs cut itself. We learned the hard way that we could only pry so much output from the same set of inputs.
Skip ahead a few years to when the economy showed tentative signs of a turn-around. It was then that we started advising our nonprofit clients that it was time to come out of the bunker – time to come out, look around, breathe some fresh air, and take notice of the new opportunities sprouting up everywhere.
I'll deliver that message again: if you're still in the bunker, come out. The economy is growing again and it's time to get back in the game. There are opportunities everywhere.
By now, most of the nonprofits we work with have surfaced, but many organizations are still operating like it's 2010. We get it, it's easy to do. Budget shortfalls like the ones we started to see in 2009 make it hard to justify spending on a necessity that can feel like a splurge, especially when revenue is down. But here's the thing – it's a vicious cycle: when revenue decreases, spending decreases, and participation, activation, performance, and donation levels suffer too, which in turn causes revenue to decrease further.
If ever there was a time to invest, it's now. We've seen a solid year of economic growth, all of the major philanthropic indices are moving in the right direction, and there's a positive outlook for the upcoming year. If you've been waiting for the good times, stop waiting. They're here.
So, you're coming out of the bunker – you're just not sure where to start. We've selected three high-potential initiatives in which your nonprofit should consider investing this year:
1. Your stable cornerstone program. You know the one: it's the lifeblood of your organization and though it may not have grown like gangbusters over the past few years, it held its own during a tough time. It may have taken a hit in 2009 and 2010, but it's shown positive movement in the right direction. And because it survived the recession so well, committing to further investment should be easy.

With a renewed belief in the program's purpose, a commitment to its critical place in your portfolio, a fresh set of mission-centric, growth-minded strategies, the resources and wherewithal to implement the corresponding operational and tactical activities, and some increased time and attention from your team focused on its growth, your program has the potential to continue to generate increased, sustainable revenue for your organization.
Return on Investment: Taking the right set of strategic and tactical actions on your cornerstone program will yield moderate growth in the short-term while putting the program on a positive growth path in the long-term for substantial results and a strong return.
2. Your program in decline. This program keeps you up at night and you're not sure how to stop the bleeding. Like everything, it suffered during the recession, but shows no signs of coming back. The issues on the surface are easy enough to identify, but the usual-suspect solutions aren't working. You suspect that there are underlying problems at the strategic and leadership levels and that any remedy will require more than money – likely a combination of time, patience, political capital, and candid conversation.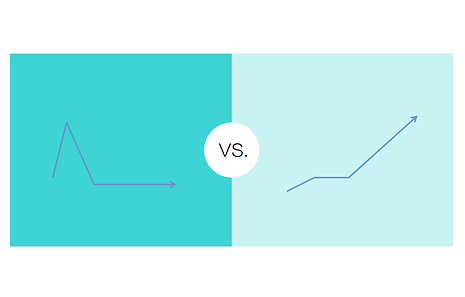 Before this program can serve its purpose in your portfolio it needs a deep-dive health and wellness assessment down to the core level. You can get a jump-start using this assessment, which will help you identify areas to focus your energy. In nearly all cases, these conversations benefit from the perspective of an educated outsider. If you don't call Plenty, call someone. Most programs in decline can be turned around, but if left undiagnosed and untreated, it can suck a huge amount of money, time, patience, political capital, and candid conversation down an endless drain.
Return on Investment: In turn-around cases, there's often some low-hanging fruit that an operational level course-correct can capitalize on in the short-term. The full turn-around is a long-term game, and it requires a thorough, honest assessment to put the tailspin in the rearview mirror. In some cases, the best course of action is to make plans for a strategic, calculated sunset of the program, freeing up time, energy, and money to operate the next program that you have waiting in the wings. The return on investment is either a program on the rebound, or freedom from a program that had out-lived its ability to serve your mission.
3. A new program. Several years ago we talked with the leaders of a large nonprofit about the potential opportunities, benefits, costs, and risks of launching a new peer-to-peer fundraising program. They already had a large, cornerstone peer-to-peer fundraising program, but were looking to fill an existing gap in their portfolio that would generate revenue and offset small, but consistent declines in their signature program. Rather than invest at that time, the leadership decided to stay in the bunker. Fast forward a few years and their signature program has continued to decline and now they're four years behind getting a new solution into the market.
What should you take away from this anecdote? The time to assess the feasibility and viability of building something new is now.
There are experiential opportunities everywhere practically begging to be co-opted by a fantastic nonprofit or a great cause, and the positive growth in the economy can help you attract and activate new fundraisers and donors. Building and launching a new program is no small undertaking, and getting the underpinning strategy right is critical. The upfront investment in doing this well will pay off multiple times over.
Return on Investment: New program development is a longer game play rather than a quick fix, with the potential of a very large payoff over time. To quote the old rock-and-roll adage "every overnight success is seven years in the making." Pelotonia, the youngest program in The Peer-to-Peer Top 30, is five years old. The March for Babies is a $100 million dollar program and is 45 years old. The potential return on investment in a new program is tremendous, and the horizon can be long.
We know that your resources are precious. We've yet to meet a client with a time-turner or a money tree. And we know that it's tempting to stay in the bunker. But the only way to move up is to embrace the mentality that there's plenty of opportunity out there, and move forward by choosing to make strategic decisions about where to invest. Don't let the opportunity to capitalize on cornerstone programs, evaluate your underperforming programs, and launch new programs slip away.
Deciding if and how you should invest in your program portfolio is a big decision, especially if it involves bringing in outside help. Take the work and anxiety out of the process and drop us a note. We will find a path forward that fits your goals and resources.