Tactics aren't enough.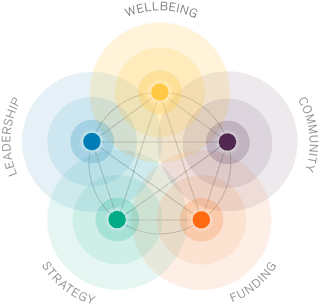 At Plenty, we've coached thousands of leaders find their best selves, helped hundreds of organizations transform, and unlocked over a billion dollars in revenue growth. And that's why we know that great movements don't come from a single set of tactics. Great movements come from connecting and aligning people with passion, courage, and authenticity.
Massive change follows the same principles as personal change: It's not about a quick fix, it's about finding and implementing an interconnected solution. Massive change takes resources. Attracting and harnessing those resources requires the courage to focus and the willingness to be different. Being different takes aligned leadership. And that kind of courageous leadership calls people to be their whole, authentic selves.
We've created a holistic assessment and model that we call the Five Keys to help you understand your propensity towards growth.
The Five Keys of Transformational Growth
In our experience there are five fundamental keys to transformative growth: strategy, leadership, wellbeing, community, and funding. These keys are interdependent. Groundbreaking impact requires coordinated efforts to improve and align all five.

Strategy
involves creating alignment around a clear purpose, a unique position, and an inspiring vision for change.
The best strategies are agile and responsive to changing times without sacrificing focus and direction.
Our belief is that strategy is about creating alignment, not about creating plans.

Leadership entails developing courageous, authentic, and competent people who can effectively harness their passions in service of one another and the world. Our belief is that leadership is about authenticity rather than authority.

Wellbeing means creating the balance, support, and openness leaders and constituents need to growth in head, heart, and health as they work together – rather asking anyone to sacrifice themselves for their goals or hide who they truly are. Our belief is that there is no distinction between your "personal life" and your "professional life" – you live one life.

Community consists of identifying, finding, supporting, and inspiring constituents with similar interests and passions in order to learn, teach, share and co-create something better, together. Our belief is that the content is in the community.

And
funding
denotes the diversified, perpetual systems to make the movement sustainable and scalable.
Our belief is that funding is a means to an end, not the end.
Time to build your castle in the air.
Many of our clients begin their work with us focusing on only one of these components. But fixing one key alone won't create something transformative and long-lasting. All the funding in the world won't help you if you aren't aligned to a coherent strategy; all the inspired leadership you can muster won't help you create change in the long-term if your team is burnt out and demoralized because they are not heard or have to work long hours for low pay.
Henry David Thoreau wrote,

"If you have built castles in the air, your work need not be lost; that is where they should be; now put the foundations under them."
Let us help you move past incremental improvement to unearth the truly massive abundance that is in your reach.

Let us help you lay the foundation to re-invent your whole self, your whole organization, or a whole system. Let's build something truly amazing, together.
It all starts by understanding where you are. To that end, we've created a simple
assessment
to help you articulate your readiness towards growth – and help you understand where to go next.

---
We often tell our children they can do anything, the world is theirs and the possibilities are endless. Yet as an adult we don't quite hold those values true to ourselves. We become cynical and stuck in a routine. Experiencing Meridian with Plenty has allowed me to live by my passions and values again. Our future possibilities are how we define them – and ultimately that definition is as big or small as we as we want to make it. There literally are no limits to what can be achieved. Plenty inspired me and our team to have courage, belief in ourselves, and find a course to stay true to our values.


Joanne Matson, Project AWARE