Isn't it time you had a better strategy for creating strategy?
Is your leadership team having difficulty agreeing on a clear strategy?
Do you engage in endless circular discussions that never seem to resolve themselves?
Are you seeking a way to create alignment and connection with your team?
Are you looking to re-invent to respond to the changing market?
Are you concerned about declining revenue?
Or, are you trying to keep up with significant growth that is testing your existing systems and values?
Do your organizational goals seem to have little grounding in your mission

–

or reality?
Meridian is a new strategic model for a transforming world: Put your passion at the heart of organizational strategy and witness the alignment, growth and impact you've dreamed of come to life.
Meridian is designed to help organizations and teams create a flexible and dynamic strategy to power your growth through changing times. Built around a three-day interactive workshop in HeartSpace, Park City, Utah, our retreat will activate your team, re-invent your approach, and align your leaders to take action.
Put aside your preconceptions and past experience with strategic planning – let Plenty give you the experience you've always needed and never had. Meridian will give you a fresh perspective on strategic planning – one that is centered in heart, powered by connection, and grounded in action. You will leave with a concise playbook that you will use every week all year long.
How It Works
Meridian is our flagship service for creating – or re-creating – organizational strategy. We'll work with you to build hard-core strategic components like branding, positioning, and competitive differentiators. But, we'll do it from a context that is rooted in your most important strategic advantage: Your passion. Using Meridian, Plenty's proprietary strategy model, we'll help you identify your organization's passions; link them to the core purpose of the organization; and inspire you to dream about the highest possibility for your creation. Then we'll help you map the positioning, branding, team, and processes to bring it to life.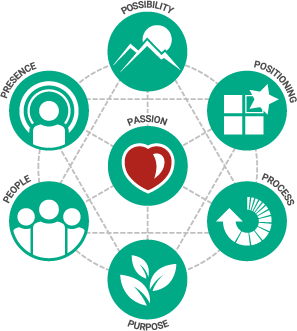 Most implementations follow a ten to twelve-week model, including all the components you need to uncover your opportunities, align your team, and make a great forward-looking plan to help you change the world:
A virtual kick-off to introduce our teams and start discovery;
Approximately four weeks of discovery to understand your trending, challenges, and opportunities;
A three-day interactive strategy workshop with you and your team in your area or at our beautiful retreat center, HeartSpace, in Park City, Utah;
Creating alignment around the purpose, values, vision, and needs for your organization or program;
Outlining the organizational revenue goals and operational needs for short and long-term;
Identifying the operational components of those goals;
Facilitating the group to consensus on the next steps to inform best practices development; and
Creating a succinct strategic playbook that includes all of the components of the strategy and operations.
Meridian aligns you around your purpose and vision – ensuring not only that the operational improvements you adopt will achieve the organization's needs and goals, but more importantly that everyone knows and believes in those goals in the first place!
---
Why Passion?
In an age of authenticity, what we care about is more important than ever. And yet, we are often taught that in business, what we care about has to be subservient to what we can measure. In this new age, passion is the currency that will fuel our missions and create the impact we seek. With passion to fuel our deepest purpose, we can accomplish anything we dream.
Meridian is rooted in our belief that we are entering a new era – one in which how we what we feel is becoming more important than how we say what we know. Nowhere is this most evident than in the social impact space, where increasingly, constituents seek to support ethical, modern, transparent organizations making true impact.
The traditional way of problem-solving and strategic planning needs to adapt to this new era. In order to thrive in this new way of leading and being, we have to realize that our hearts are as important as our heads. What we know is incredibly important – we have to be smart, analytical, and rigorous – but we can't start there. We must start with the heart. And, we have to embrace the idea that organizations are only as powerful as the people in them. To create successful organizations, we need to have seen, activated, and whole people. We must start with individuals who make up organizations. Individuals like you.
---
Meet Your Guides
Jennifer Mulholland and Jeff Shuck are co-leaders of Plenty. For nearly twenty years they've been on a united path to make a transformative positive difference on the planet. Both started their careers in the nonprofit space, Jennifer founding an organization designed to teach leadership and teamwork to women through lacrosse culminating in bringing the sport to Utah, and Jeff working to teach values and leadership to men.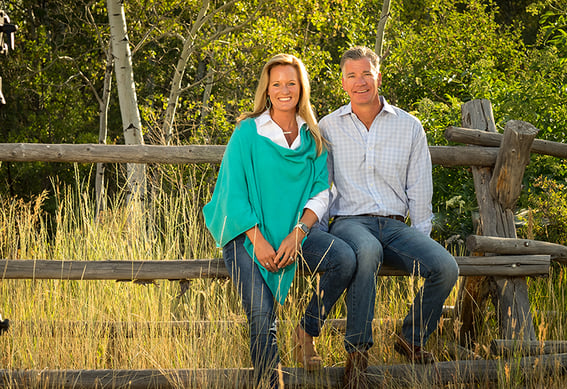 They first worked together in the late 1990's at a startup technology company dedicated to unifying the digital campus. Jennifer went on to lead professional services and innovation at SunGard Fortune 500 software company before founding several businesses focused on building communities dedicated to activating human potential and whole-person wellbeing. Jeff started Event 360, a firm that raised nearly a billion dollars creating and producing large-scale fundraising events for charity. All the while, the two stayed in touch before reconnecting several years ago to create Plenty, a consultancy focused on connecting, supporting, and inspiring a global community of idealists like you to create massive positive change.
Jennifer graduated from the University of Utah with a degree in Exercise and Sports Science, Psychology and Coaching and holds certifications in multiple disciplines and practices related to spirituality, healing and wellbeing; she played D1 Lacrosse and Field Hockey for the University of Delaware prior to that. Jeff graduated from the University of Rochester and holds an MBA from Kellogg School of Management and has extensively studied Predictive Analytics at Northwestern. He is an accomplished musician and songwriter.
At Plenty, Jennifer and Jeff practice a model of co-leadership, jointly leading the firm and directing strategy, insight, innovation, and culture. Their vision is to co-create a vibrant, expanding peer-to-peer network of idealists working together to share what works to transform the planet. They travel extensively and also enjoy bringing individuals and organizations to HeartSpace, Plenty's retreat center, in Park City, Utah.