Think fast: who is the best storyteller you know? Odds are, it's someone who doesn't simply tell what happened. Rather, the best storytellers show what happened by punctuating their stories with rich description, vivid examples, and compelling details.

In today's intensely competitive market, nonprofits face greater challenges than ever before when it comes to distinguishing themselves from the crowd. A lifeless, text-dense website or social media presence is not only forgettable, but does nothing to engage and steward donors, volunteers and other constituents.

The key to success? Not just having a great story, but knowing how to convey it in the most powerful way. Let's take a closer look at four nonprofits who stand out when it comes to showing instead of telling.

1.

charity: water


A nonprofit dedicated to raising money to ensure clean, safe drinking water for people all over the world, charity: water is not content to simply tell you what they're doing. Rather, they're all about creating an irresistible experience for constituents, using everything from bright, snazzy graphics to vibrant videos that simultaneously inform and inspire.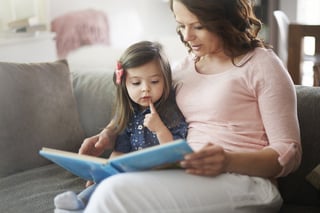 charity: water has mastered the art of "social proof." Simply put, this means giving a face to their mission through shared pictures, videos, and written testimonials. This storytelling is consistent across Facebook, Twitter, and Instagram, as well as the organization's website, blog, and even email marketing campaigns - not to mention an entire webpage devoted to sharing "stories" from the field.

2.

DonorsChoose.org




A Huffington Post story

recently argued that "there are 3 types of shareable information: 1) facts, 2) opinions, and 3) stories. Of the 3, stories are the shortest distance to our hearts." In other words, what makes every story truly unforgettable is its unique and subjective specificity. DonorsChoose.org has mastered the art of the latter.

Declared a "revolutionary charity" by Oprah herself, this innovative organization links classrooms in need with donors through a heart-warming system in which public school teachers post their request for support and wait for connected donors to feel inspired to give. The "feel inspired," part is particularly pivotal, because the requested materials are not shipped until the funding goal is reached. Vibrant pictures, moving quotes, and complete transparency play a role in the paramount storytelling that gets people to click "Give."

3. World Bicycle Relief
Sometimes it takes a story to truly convey just how important the work of an organization is. For instance, World Bicycle Relief who focuses on "mobilizing people through the Power of Bicycles" has tapped into the power of personal stories by letting the people they serve share their own experiences with the organization. And when you hear directly from someone like Ethel, who walked two hours to school and back every day just to get an education until World Bicycle Relief cut her commute down to 45 minutes, you can't help but feel connected to her and to their mission. Or when you learn about Ishmael Badza, a 42-year-old Zimbabwean business owner who reduced his company's transport costs by a whopping 95% by purchasing bicycles from World Bicycle Relief, you become inspired to support their organization and others like Ishmael. Factor in their ready-made images, videos, logos, cover photos, and backgrounds and it isn't surprising that these stories are begging to be shared and generating impact for World Bicycle Relief.

4. AVON 39
If a picture paints a thousand words, then AVON 39, a 39-mile walk aimed at ending breast cancer, amounts to an encyclopedia's worth of stories. How do they pull it off? Amazing photos, and lots of them. Their eye-catching images are a shortcut to telling the story of the organization and the people they serve.

Need more proof why pictures matter? Jerome Bruner, a New York University psychologist, discovered that while people remember a mere 10% of what they hear and 20% of what they read, they retain a staggering 80 percent of what they see and do. In short, the right pictures keep the focus on the story.

And if you want a story that's optimized for sharing, here's another reason to mount an image-rich campaign: people are far more likely to share image-based posts than text-based ones.

Now it's your turn. Take a quick look at your website, social media sites, and recent emails. Are you showing or telling? If you have some improvements to make, you have one last question to answer, and doing so is imperative: What's your story, and how are you going to share it?
---
Learn how to tell your nonprofit's story using the three components that drive participation and engagement. Download our e-book "The Participant Gears" today and explore the areas impacting your nonprofit's fundraising success!