When I was little, my mom picked up other people's trash. Whether we were walking around the neighborhood, playing at the park, or waiting to eat at a restaurant, if she saw trash on the ground she would pick it up and throw it away. At the time, I was embarrassed. I just couldn't understand why my mom would do this – it wasn't her trash, so why was she picking it up?
As I look back on my mom's actions now, with many more years of life experience behind me, I realize that she was teaching me something. My mom was teaching me that the world needs people of action. The world needs people who will fix things, even if they weren't the ones who broke them. The world needs people who will tap themselves on the head instead of waiting for someone else to ask or tell them to do something.
One of the reasons why I'm so passionate about fundraising is because it's an industry filled with people of action. It's a world filled with people who mobilize their networks to raise money for causes and organizations they care about. No one has to tell them to fundraise or make them fundraise, they're doing it because they recognize a need and want to affect change. It's an inspiring industry to be a part of.
Even more inspiring than the change brought about by P2P fundraising is the realization that fundraising is just one aspect of peer-to-peer. It's likely the aspect that we talk most about at Plenty as we help our clients mobilize their networks to raise money for their missions, but it's still just one aspect. We live in a peer-to-peer world and I frequently witness the power of peer-to-peer through my involvement with animal rescue.
As the Founder and Chief Dog Lover at Retired Retrievers, I spend my nights and weekends trying to save old dogs from dying alone in shelters in Georgia and the surrounding states. Plenty by day, Retired Retrievers by night. The dichotomy of my life is like Clark Kent's transformation from his day job into Superman mode, except in my case there is no phone booth, I don't wear a cape, and my clothes are usually covered in dog hair.
In the last few years I've met a lot of superheroes who make life better for animals. I recently found myself teary-eyed on the interstate, thinking about the networked power for good that exists within this community. I was driving north on I-95 from Jacksonville to Savannah and my passenger was a yellow lab named Holly, who 48 hours earlier was a nameless old dog awaiting her fate in a shelter 420 miles away. On that Saturday afternoon, she was safe because of a community of doers who saw a need and took action.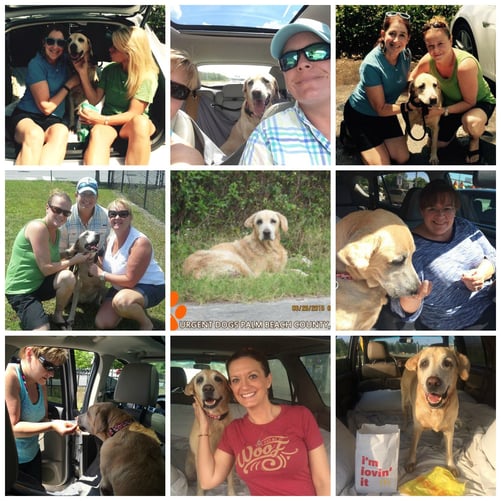 When I first saw Holly's picture online, I reached out to my friend Susan, who I've never actually met in person, but who has helped me save two other dogs in the past year. I asked Susan if she knew anyone who could go to the shelter and evaluate the dog for me. Susan put me in touch with her friend, Lori, who she has never actually met in person, but who has helped her rescue other dogs in the past. Lori called me five minutes later and said she would go to the shelter the following day.
When Lori confirmed that Holly was, in fact, as sweet and gentle as she looked in her photos, I reached out to a small group of volunteers who helped Retired Retrievers move an old dog north from Florida last year and another one earlier this year. This group originated with my friend Wendy, who I was introduced to by my friend Samantha, who Wendy and I have both worked with at different points in our careers.
Wendy put together a run sheet for Holly's trip, consisting of legs ranging from 20-120 miles, and people started signing up to drive the leg that worked best for them. When we needed additional help, my friend Jessica, who I just recently met in person, reached out to volunteers she works with at Labrador Retriever Rescue of Florida, who both filled the additional spots and helped manage the north end of the trip.
All of this started on a Thursday. By Saturday morning at 10:00am, Holly was out of the shelter and heading north. She spent the day getting passed from one set of loving hands to the next, as this incredible group of women spent their weekend saving an old dog. If not for this networked community, Holly's story may not have had a happy ending. Old dogs are often the last to be adopted and the first to be euthanized because of their age.
This is the power of peer-to-peer beyond fundraising.
As an old dog enjoys a second chance at life and love instead of spending her final days in a shelter, this network of dreamers who do continues to grow – adding more connections and strengthening existing ones. As the saying goes, "Saving one dog will not change the world but surely, for that one dog, the world will change forever."
Whether you are called to pick up trash, save an old dog, mentor a child, plant a tree, teach someone how to read, or take any other action that will make the world a better place – go and do that thing. Answer the voice that is calling you to be a person of action. Invite others to join you. The power of P2P is limitless. Go forth and mobilize your network to create a world where there is plenty for everyone, even old dogs.
To learn more about the massive power and reach of P2P and how you can harness it within your development porfolio for more mission impact, download our e-book, "The Expansive Impact of Peer-to-Peer Fundraising."