In the past, peer-to-peer fundraising has been associated with personal, low-impact crowdfunding campaigns — think Kickstarter or GoFundMe. However, peer-to-peer fundraising has been a powerful tool in the professional fundraiser's toolbox for years. Whether it's linked to a large, stand-alone event like a 5K, or it's a year-round campaign, peer-to-peer is all about involving supporters to fundraise on your organization's behalf.
Peer-to-peer fundraising increases the span of an organization's reach. Armed with fundraising pages, email tools, and social media, fundraisers turn their friends and families into donors. They have networks across the country and across the world — which means, by the power of peer-to-peer, your organization does too.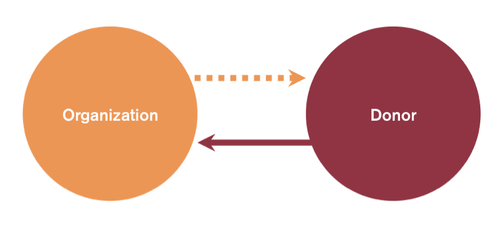 In traditional fundraising, organizations have a direct relationship with their donors. Organizations ask for contributions, and donors respond by giving money. Because of this one-to-one dynamic, fundraising potential is contingent upon the number of people the organization knows. As a result, the organization is limited in its ability to expand its mission. Not only that, but traditional fundraising (i.e., grant writing and major donor relations) requires remarkable investments of time and effort. It takes both to earn a constituent's trust and cultivate relationships with him/her.
The beauty of P2P fundraising is that it creates a bottomless pool of potential new donors because the list of supporters isn't limited to the people that an organization knows. Instead, the organization has access to both its constituents and the constituent's networks. In this fundraising model, the audience is expanded exponentially. P2P is not just about whom the organization knows – it is about whom the organization's supporters know. Peer-to-peer fundraising works so well because it's an organic process that includes your donors in the fundraising. Instead of your organization prescribing the message and forming a cohesive fundraising strategy, your constituents are able to be creative with how they express their own stories, which are then heard by their family, friends, and coworkers.
Here's how P2P fundraising works:
1. The organization asks its supporters to participate in a peer-to-peer fundraising event or campaign.
Have you ever attended a Gala or participated in a 5K? That's peer-to-peer. What about a dance marathon like the one at Penn State, a mustache growing challenge along the lines of Movember, or a relay like the one hosted by the American Cancer Society? Again, all examples of the peer-to-peer model at work. P2P fundraising events come in a variety of forms, sizes, and styles, but one thing is constant: they all start by asking supporters to participate.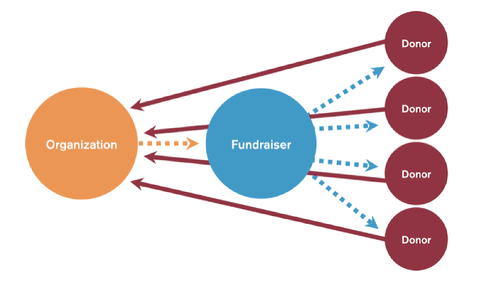 2. The organization asks each registered participant to fundraise.
Peer-to-peer fundraising events include a fundraising minimum or suggestion to fundraise, separate from the registration fee (if the event has one). Why is it important to have a fundraising requirement and not just a registration fee? To put it simply, the P2P fundraising component generates more revenue for the organization. More revenue gives the organization more tools to achieve its mission. And after all, the purpose of a fundraising event is just that - to raise more money and make a bigger impact. Registering for the organization's event and showing up isn't enough - if we're going to create a better world, participants have to fundraise.
3. The fundraiser then asks people they know to donate to the organization.
In peer-to-peer, we are not just making one ask to our constituent— we are also enabling them to make asks of their own. This is the critical interaction in P2P fundraising — a constituent reaching out to their network on the organization's behalf, ultimately allowing it to connect with a larger audience. One benefit of this model is that the fundraiser is able to share their story and personal connection to the cause, which brings the mission closer to home for the constituent and their networks. The story making element of P2P is a powerful tool in increasing donations and building strong donor relationships.
4. Donors give to the organization in support of their friend, the fundraiser.
When a friend or loved one shares news of a new baby, new job, or new house, your initial reaction is to 'like' the post, 'favorite' the tweet, or respond to the message with congratulatory words, right? The same is true in fundraising. Because fundraisers establish a personal connection to a cause when asking for donations, their friends and loved ones are supportive and engaged. The good news for nonprofit organizations is that the outpourings of support in this scenario come in the form of donations. The end result of P2P is powerful: someone the organization didn't know before the event is now a donor, and (*hopefully) aware of and engaged with the organization's mission.
*Note: One of the most common mistakes organizations make in P2P fundraising is treating new donors the same as their direct constituent base. It is important that you recognize how these people met you. Just because they donated to a friend doesn't mean they know or care enough about your mission to become consistent donors and supporters themselves. It is your job now to properly steward, educate, and involve these people with your mission.
The potential to build upon existing relationships, expand your impact through your constituent's networks, and organically grow awareness of your organization is exactly why peer-to-peer is transformative. Utilizing solid peer-to-peer tactics and strategies will set you on a path to increase your revenue, multiply your donor base, and rally a new segment of supporters ready to spread your message.