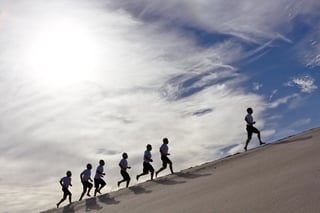 As peer-to-peer fundraising consultants we often get asked, "What is the silver bullet to building a successful P2P fundraising program?" Our answer is always the same: there isn't one. The answer is more than flippant. It highlights that there is a complex process behind every effective program we see.
In fact, high-performing programs are the result of effective leadership, strategic efforts, and motivated teams. Our Seven Success Factor framework helps explain the most important pieces every P2P program leader should consider as the fall event season rolls-out and planning for next year continues.
Grow your P2P program using this checklist:
As you look over this checklist consider the following: are you currently investing time and money into any of these areas? Are you struggling with one or more of them in particular? What will be the first step you take to get your program on track?
Use these seven components to build the foundation of your peer-to-peer program and expand from there. And remember that while these factors are critical to your program's success, they are just the beginning. Make sure to innovate, experiment, and measure new ideas and processes as your program stabilizes and grows to ensure your success does not become stagnant.
For a deeper look at the seven components critical to the success of your peer-to-peer program download our Seven Success Factors E-Book!