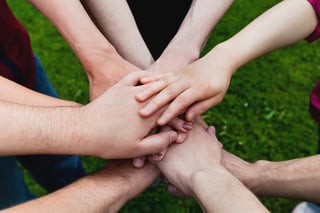 There are always two camps nonprofit staff fall into during this time of year. In the first group, staff members have almost everything done and can be found humming "Jingle Bells" around the office all month. Each year you hope you'll be in this camp and yet, it doesn't always happen that way, right? Those of you agreeing with this are (sadly) used to being in the second camp. This camp is for staff members who aren't quite panicked per se, but they are slightly frenzied. They are the ones with the ever-growing task list that is fueled by the urgency and need to wrap things up before the year ends. If you're in this group, right about now it probably feels like you'll never tackle your time-sensitive 'to do' list. Well, we're here to tell you that you don't have to feel that way and the work can get done.
Just as there's an abundance of potential in fundraising that we can harness by asking the right people for support, there is also plenty of help for you to tap into – if you just ask your volunteers. Your volunteers are some of your most dedicated, passionate, and hard-working supporters. They are a tremendous asset to you and your organization, but in order for volunteers to actually lighten your workload, it's important that you reach out to the right volunteers for the right tasks.
Here is a list of four end of year items that might be on your 'to do' list, the type of volunteer that can help with each task, and how to find and support them.
To Do List Task #1: Create And Share A Powerful Story
Maybe you need to rally the troops internally or you're looking for a personal, meaningful call to action for an end of year giving campaign. Or it could be that you've taken our advice on incorporating mission storytelling into all of your development efforts. Whatever your reason is for wanting a powerful story to share, the most effective storytelling is authentic, personal, and passionate. That's where a Mission Volunteer can help.
This type of volunteer is so committed to your mission that their passion is palpable. Which makes them the perfect person to share your story. Empower them to share your mission with others and grow your constituent network.
Where to find Mission Volunteers: Look to people who are personally affected by your mission. This may be people your organization serves or has served in the past, their family, or their friends.
How to show your appreciation to Mission Volunteers: Make sure they realize that by sharing their story they're actually creating awareness and advocacy for your cause, and they are playing an important role in expanding your organization's network of support.
To Do List Task #2: Build New Connections
Did you set a goal that you would start 2015 with a few new team captains, event planning committee members, or other key stakeholders? Chances are this sounds familiar and you are looking to grow these groups of stakeholders who are eager to engage their social networks on your behalf. But getting these important members of your community to secure additional support and donations through peer-to-peer fundraising isn't always easy. The good news is that your Social Volunteers can help you get started.
This type of volunteer has close personal relationships with virtually everyone under the sun (at Plenty, we call these people hubs). They want to introduce you to other hubs who are equally excited about forging new connections with and for you. Tap a Social Volunteer to connect your organization with other people who would be delighted to make fundraising asks on your behalf in the New Year.
Where to find Social Volunteers: Social and community groups where retirees or stay at home parents invest their time.
How to show your appreciation to Social Volunteers: Make sure they understand that what may feel like a small task is actually helping the organization build an important community and amplifying its impact.
To Do List Task #3: Hire A Data (Legal, Marketing, or Other) Wiz
We've shared that understanding your data is a key ingredient in the recipe for peer-to-peer fundraising success. Maybe it's on your to do list to ask yourself the three critical questions about metrics and apply them to your data, but you haven't gotten to it yet. This type of specialized task requires someone with knowledge and interest in the area you need help with. Someone whose eyes glaze over when you say "data quality" is probably the wrong person to help with a data project. The same is true for any specialized task that you need help with. Whether it is related to marketing tactics, legal issues, or other specific duties, you want someone with experience in that specific field helping you.
The right person for this job is a Skills Volunteer who has experience and interest in the area where you need assistance. You can enlist this type of volunteer by tapping into their expertise or giving them an opportunity to further hone their skills.
Where to find Skills Volunteers: Young professionals groups in your city or professional associations in specific areas related to the task you need help with, such as – data technology professionals, consultants, attorneys, or medical professionals.
How to show your appreciation to Skills Volunteers: Share how much you appreciate their help publicly. Whether it's on social media, during an organizational meeting, or another public platform where they can benefit professionally from your praise.
To Do List Task #4: Send A Social 'Thank You'
Hopefully you've already thanked your donors for their Giving Tuesday and year-end donations to date. But, in a peer-to-peer, socially connected world, there is even more you can do. When it comes to showing gratitude, put yourself in the shoes of your donors. What is more likely to inspire them to invest more of their resources – a generic 'thank you' email or letter, or that plus an acknowledgement on social media? The second, right?
There's probably more work that can be done to show donors how much their individual contributions matter, yet odds are your marketing team is too busy with its own set of tasks at the moment to go the extra mile. But someone like a Service Volunteer who's great at figuring out which donors can be engaged with on social media, or has the patience for detailed tasks (like scheduling 50 'thank you' tweets) is the perfect person for this role. This type of volunteer doesn't mind rolling up their sleeves to master detailed (read: sometimes tedious) administrative tasks.
Where to find Service Volunteers: Search the groups of people already volunteering in the community in roles that matter a lot, require a lot of work, but are often behind the scenes, such as – the little league snack coordinator, PTA secretary, or neighborhood or social group welcome committee enthusiast.
How to show your appreciation to Service Volunteers: Make sure they realize how their tasks matter in the broader scheme of the change your organization is working to create.
By incorporating volunteer support in these ways, you can activate the strengths and interests of volunteers, which goes a long way with keeping them engaged long-term. Also, don't limit yourself to utilizing these resources around the holidays only: great volunteers are eager to contribute all year. Of course, if volunteer contributions don't get you completely through your task list, check out our services and see how we can help you achieve your goals.
Don't forget to put your task list down for a minute and download our Seven Success Factors E-Book, which guides you through the seven components of peer-to-peer fundraising programs critical to your program's success, and how to improve each one!