In recent months, I've had the opportunity to work with several organizations on their fundraising programs. It is always interesting to explore events through discussion with staff and volunteers, and dive into the data that surrounds an event. But where I truly find great joy is in working collectively to surface the greatest potential of an event and then to provide the recommendations needed to make it a reality.
So you can imagine how fulfilled I felt when I found Plenty, because that is exactly what our team does! Here at Plenty, in addition to providing leadership, strategy, and wellbeing expertise to change-makers all around the world, we also help nonprofits optimize their peer-to-peer fundraising programs. One way we do this is through our Seven Success Factors Framework. These seven components are the basic building blocks for peer-to-peer fundraising growth. We use these seven factors to analyze program performance, spot weaknesses, identify opportunities for growth, and discover any misalignment within the organization that may be impeding progress.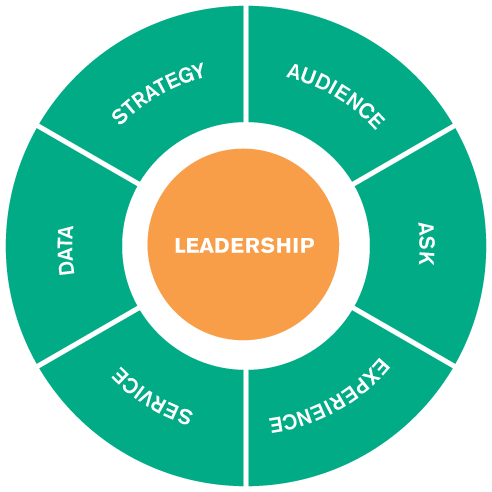 Within the model, you will see that six of the factors surround "leadership." This structure isn't just by chance. Leadership is in the middle of the framework for a reason — it is the foundation of any program's success and the glue that holds the strategy together. Therefore, without properly aligned leadership, sustainable success remains out of reach.
However, in recent partnerships, I've found that developing aligned leadership is one of the biggest challenges organizations face. Many organizations have outstanding leaders in Sales, Marketing, Development, and Engineering but lack comprehensive mission-based support. If this is the case within your organization, I hate to break it to you but, your organization is misaligned.
Organizations without aligned leadership have a lack of unity around a common goal, a lack of agreement on the current reality of the program, and a lack of understanding about roles. Quite simply, not everyone is on the same page and, in some cases, they are not even reading the same book.
At Plenty, we want every peer-to-peer fundraising program to achieve its highest potential by helping teams define what that success looks like and the path to building it. To get you started, here are three things that can be done if you find your organization in a leadership crisis:
1. Clarify goals, make sure that everyone understands what they are, and confirm that they are on board with the strategy in place to achieve them. How often do you leave a team meeting feeling perplexed about your targets or puzzled over the strategies you're supposed to utilize to achieve them? Solid leadership clearly communicates team objectives and methods so that everyone is aware of, and on board with, the vision. Turn your broad mission into something more concrete by utilizing unambiguous goals and success metrics.
2. Create a culture that values honest feedback and conversations around performance and change. To become more effective and fulfilled at work, people need a keen understanding of their impact on others and the extent to which they're achieving their goals. This means giving constructive criticism and praise for a job well done. Your organization will make better decisions when everyone has what they need to have direct, candid conversations and then make knowledgeable choices.
3. Make one person accountable for each area of operation, and make sure the entire team understands their respective roles and assignments. How often do your meetings end with vague group assignments? "Okay, Sales, can you check this data over and send out an email in response?" Who in Sales is responsible? Who will receive the email? While it may be uncomfortable, singling out the one person needed to complete the task, it is necessary in order for your team to operate efficiently. Your team members desire to do well and will rise to the occasion when clear expectations are placed upon them.
Strong leadership and alignment, or lack thereof, is the biggest determinant of organizational success or failure. And if you're reading this and thinking that leadership is only found within the C-level staff or Board of Directors, you are mistaken. Leaders at every level must be involved in and feel empowered to create this alignment. So no matter your title, or position within your organization, make sure you're not neglecting the most critical driver of your organization's success.