In the beginning, there was only good, old-fashioned face-to-face "begging." What started at Harvard in 1643 as a fundraising campaign to raise 500 pounds to build up a new college has since evolved into numerous trends and technologies, including direct mail, telemarketing, and online giving. So what's the current buzz in the philanthropic space? Mobile giving.

Let's take a closer look at this game-changing giving channel, along with what you need to know to maximize your mobile giving efforts.

A Look Back
While mobile giving may be one of the fastest growing channels when it comes to giving, the truth is that it's not entirely new. In fact, the perception of it as such compared to the reality, once prompted vice president of wireless and Internet development at CTIA – The Wireless Association David Diggs to describe mobile giving as "a six-year-old overnight success."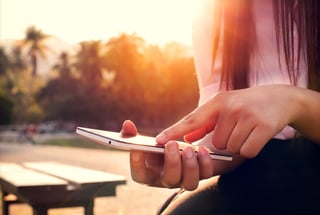 The first "text to give" fundraising campaigns occurred in the aftermath of Hurricane Katrina and the tsunami in Indonesia. These initiatives were not only wildly successful – the former being when the American Red Cross raised more than $3 million through text messaging within just 31 hours, more than a third of the total raised by the organization during that time period – but also laid the groundwork for the mainstreaming of mobile giving. In particular, these early campaigns paved the way for the massive mobile giving movement that followed the Haiti earthquake, which inspired Pew Research Center's seminal study on mobile donors.

So what did Pew determine about mobile giving based on the earthquake relief in Haiti in which individuals donated approximately $43 million via text messaging? Perhaps most notably, these donations, which were primarily in $10 increments, "were often spur-of-the-moment decisions that spread virally through friend networks." This includes the 74% of text donors who indicated that their text donation to Haiti was their first experience with mobile giving compared to the 22% who revealed that they'd previously used text messaging to donate. All in all, just under 10% of adults have texted a charitable donation, and this number is expected to rise.

But if you think the power of mobile giving is limited primarily to "disaster relief fundraising," think again. A full year before Haiti, the Keep a Child Alive program – the AIDS-fighting effort led by Alicia Keys – raised just under $500,000 by text and briefly held the record for mobile giving until Haiti relief efforts began.

While these are only a few instances of mobile giving success, they clearly demonstrate the immense potential to connect with new donors, inspire giving, and grow your peer-to-peer networks.

The State of Mobile Giving Today
So what does mobile giving look like in 2015? Well, to put it simply, we love our phones – a lot. Which is why the potential for growth lies in mobile communications. According to the Pew Research Center, not only do 90% of Americans own cell phones, but 67% of them admit to checking them – regardless of whether they're ringing or not. Still not convinced? Consider this eye-opening statistic gleaned from a recent Morgan Stanley poll: 91% of adults have their cell phone within arm's reach at any given point throughout their day. Meanwhile, Pew further reports that 44% of cell phone owners actually sleep with their cell phones by their beds because they "don't want to miss anything."

The takeaway? Having achieved a status never even touched by laptops or desktop computers, cell phones now occupy the very epicenter of our lives. So why not put cell phones at the epicenter of your fundraising efforts? That's exactly what mobile giving platforms aim to do.

Mobile giving allows donors to connect with and donate to their favorite causes in real-time directly from their mobile devices. This is a perfect example of designing your campaigns for your constituents; meet them where they are and talk to them in personalized ways. Want people to feel engaged and involved with your mission? Texting puts this connection literally at the donor's fingertips, delivering the sought-after instant gratification that characterizes how we operate in today's digitally driven world.

Mobile giving is easy, instant, and easily shared. Organizations looking to initiate and grow donor relationships will find no better way to do so than through the medium with which these same donors are most connected.

Overcoming Future Mobile Giving Challenges
If you haven't boarded the mobile giving train yet, what's holding you back? For some, it's the fear that the casual nature of texting will keep donors from making larger gifts – particularly for campaigns that only accept donations in $10 increments. Others worry that the mere seconds it takes for donors to blithely tap their way to a donation will interfere with the cultivation of meaningful and ongoing relationships. This is one reason why mobile giving should complement – as opposed to supplant – your arsenal of giving channels. Ultimately, communicating solely via mobile communications is not a substitute for meaningful, and sometimes even, in-person interactions. Rather, it's a new and easy way for donors to give – and connect – in an instant.

And then there are donor concerns. Many are skeptical of where their dollars are going and how they'll be spent once they get there, which is a common issue amongst all giving channels but is especially present in mobile giving. Mobile giving scandals such as the one surrounding Wyclef Jean's now-defunct Yéle Haiti, in which the charity took in more than $2 million via mobile giving before being outed as a "cesspool of fraud and broken promises", do not help donor skepticism either.

The solution? Charities must go beyond simply setting up mobile giving campaigns and instead keep the focus on cultivation and impact. Mobile giving is all about meeting your supporters where they are, but that doesn't mean you shouldn't try to steward them to more meaningful engagement. And just as it is in any other channel, the name of the game is impact. Make sure your constituents know the difference your organization is making in the world and how they can be a part of that change.
---
Mobile giving is just one of the important peer-to-peer fundraisng tools you should have in your toolkit. Explore the other promising channels geared toward growing and engaging your supporter networks in our e-book "The P2P Digital Toolkit." Download your free copy today!
---
Sources:
http://www.pewinternet.org/fact-sheets/mobile-technology-fact-sheet/
http://www.chicagotribune.com/bluesky/originals/chi-mobile-startups-change-behavior-bsi-photos-001-photo.html
http://articles.baltimoresun.com/2010-01-15/business/bal-bz.fundraising15jan15_1_text-messaging-american-red-cross-short-message-service
http://www.gainesville.com/article/20100125/ARTICLES/100129718/1002?p=1&tc=pg
http://www.nbcnews.com/id/34850532/ns/technology_and_science-wireless/#.VcqvCp1Viko
http://www.dailymail.co.uk/news/article-2217090/Wyclef-Jeans-Haiti-charity-cesspool-fraud-broken-promises-collapsed-mountain-debt.html