The US can proudly lay claim to an array of fantastic third party fundraising events; Boston Marathon, New York Marathon, and the Ironman Triathlon just to name a few.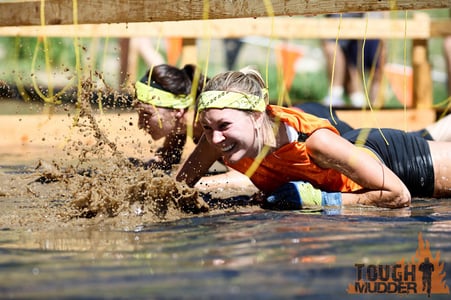 Over the last five years, many of us have also witnessed the growing trend in obstacle events and mud runs. In fact, according to Running USA, more people completed an obstacle course event in the US than the combined number of finishers in half and full marathons throughout 2014. Some in the philanthropic space were quick to take notice, including charities like the National Multiple Sclerosis Society who created their own signature event series, MuckFest MS, which has raised over $22M already. This rise in popularity can largely be attributed to the socially, tech-savvy audience they attract – millennials. This, coupled with the fact that many of these events bring a sense of community and teamwork, create a very powerful marketing mix for peer-to-peer fundraising.
A great example of groups taking advantage of this trend is the partnership between The Realbuzz Group (TRG) and Tough Mudder, one of the largest brands behind this type of event in 2015. These groups originally came together to grow the UK Charity Program, which didn't take long as it sold out in a month! This trend continued, and by the end of 2015, over 3,000 charity runners had represented and fundraised on behalf of 43 UK charities. In 2016, in excess of 1,250 people have already registered to run for charity and the total is growing rapidly month by month.
Are you starting to think – this is great but my organization isn't in the UK? Well never fear because Tough Mudder recently announced the launch of its brand new charity program, offering charities the opportunity to leverage any of their 34 event weekends throughout the US & Canada.
Nick Hollowood, Head of US & Canada at The Realbuzz Group said "The sector has been crying out for an obstacle race of Tough Mudder's stature to create a charity program. This is a fantastic opportunity for charities to broaden their supporter base, both geographically and demographically. Better still, the majority of runners will be first time fundraisers who are willing to share their story, cause and experience with the world!"
Such experiential events are not meant to overshadow traditional road runs or triathlons. A number of millennials see these types of events as a gateway to other activities. Despite Running USA's figure for the US, BBC Newsbeat reports there's been a 13% increase in marathon running worldwide between 2009 – 2014. A promising statistic for nonprofits globally.
However, are charities actually harnessing the full potential of these events?
Hollowood isn't so sure, "One market that fascinates us is that of the 'own place runner'. Thousands of people sign up to marathons, obstacle races, and triathlons off their own back and will travel miles in the process. The top running events in the US can attract anywhere between 10,000 to 55,000 people, yet approximately only 10 - 20% run for charity.
Compare that to the London Marathon where just shy of 80% of the runners represent around 1,000 global charities, proving that charity activation during registration is an obvious place to start, and something The Realbuzz Group has expertise in and is looking to grow in North America."
It's becoming increasingly clear that we're moving into a new era of third party fundraising. There's no shy retiring types here - and the landscape looks global.